November 16, 2011 in Travel preparations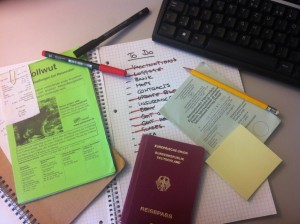 Whilst the date of departure is drawing closer – we are currently planning to leave April 1, 2012 –, our travel preparations are slowly but steadily progressing. This is a short update on what has happened during the last weeks of preparation.
Vaccinations
Once more, we have discussed and pondered about vaccinations and health issues in general. We both still need a few vaccinations before we leave – but we should manage to sort them out until then. More information on this page.
Luggage
Heike has finally found an almost perfect luggage system for her F650GS – and at the same time we can proudly announce that we have found our first sponsor!
Thank you very much to Roger from RMS-Rennsporttechnik for building such great and strong luggage systems (a detailed report is following once we have mounted it), and for giving us a small discount!
Get rid of glasses
Heike has a big project lying ahead this week: an eye surgery to correct her vision. Being myopic since her childhood, Heike has been thinking about this step for quite some time. Our travel plans have now pushed towards this decision – riding a motorcycle with glasses is simply not practicable in many situations, and wearing contact lenses every day is too expensive and not comfortable as well. Report to come!
Website – Facebook – Twitter – and new: Google+
Our website is also developing. We have added new content and improved some things… however, there is still a lot to optimize. The statistics show that we have quite a number of visitors on our website, and our fan community on Facebook (36 likes) and Twitter is growing (308 followers). And since last week we also have a Google+ page and already 17 people following us.
Quit job
A big step is quitting the job. Heike has talked to her employer this week, and told them that she will leave by the end of February. This step is also a kind of relieve. The departure is drawing closer and is sharpening, which is exciting and scaring at the same time.
Contracts, subscriptions, etc.
We have started to quit contracts, to cancel subscriptions, etc. This is important in order to stay within certain deadlines. But the to-do list remains long, and there still is a lot on it.
A throwback…
Unfortunately there was also a throwback in our plans. We didn't manage to sell Hugo for a reasonable price. Hugo is Filippo's beloved old travel truck, which we simply cannot keep. It would only cost money, and he won't become better by just standing around.
We will try again. So, if anybody out there is interested in the truck, please let us know. We will soon advertise him on ebay once more, and post it then.