Filippo's  BMW R1150 GS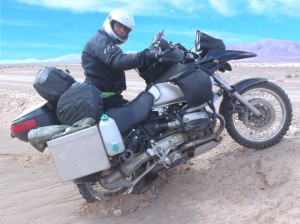 Actually, Filippo's R1150 GS is not only one motorcycle, but two! How does this work? Well, on the one hand there is the first machine, which Filippo bought in 1999 new. In the meantime it has covered 180 000 km. And that is where the second GS comes into play. This motorcycle is from 2003, and had 40000 km on the clock when we left. And now, two become one: some special parts and adjustments will be transferred from the first to the second GS, such as the 21" front wheel, the 30-liter fuel tank, the lowered exhaust, and other parts.
Click here to read more about the modifications on the R1150GS
Heike's BMW F650 GS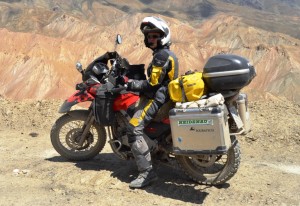 The perfect combination of off-road capable, not too high, not too heavy, suitable for long-distances, reliable, and not too expensive – that is Heike's F650 GS. The motorcycle is from 2006 – the classical single-cylinder – and had about 36000 km when we left. Some parts have been modified, such as a Magura handle bar, several protectors and crash bars, flexible levers, and other little bits an pieces. Further modifications for our trip are a chain-oiler, and a new luggage system, extra lights and horns, … and some other things.
Click here to read more about the modifications on the F650GS