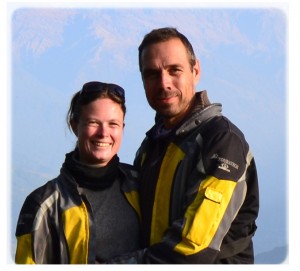 We have met during a Horizons Unlimited Travellers Meeting in Germany. Soon we realized that we share the same dreams of changing our lives – and so we decided that we both are not going to continue dreaming, but instead to live our dream together, and to share it. So we gave up our lives at home in Germany and Switzerland, packed everything we need on our motorcycles, and hit the road to discover the world and its people.
In 2014, we returned from our 2-year world trip, and settled down in the north of Switzerland, in the beautiful Jura region, where we continue to live our dream. We are now offering advice and support for people that are interested in motorcycle travelling, and we conduct workshops on motorcycle mechanics, maintainance, electronics, and general travel preparations.

Heike Biologist, communications manager, motorcycle rider; a big fan of books, good eating, and red wine. As an alternative to travelling on two wheels, in winter she is often found skiing in the mountains. Heike is mainly responsible for the content of the website, planning and everthing regarding communication.
Filippo Electronics and IT expert, motorcycle- and truck-traveller, and an technican that is able to construct and repair almost everything – always with new ideas how to improve the motorcycles or anything else. Filippo is – of course! – mainly looking after the motorcycles and technical issues.
Click here for more information on our motorcycles