General travel information
This page by Grant and Susan Johnson provides you with erverything you need to know about motorycle travelling. Especially the HUBB – the forum – is very helpful. We also recomend to attend one of the traveller meetings that take place at different places all over the world.
Great information in the forum – all about motorcycle travel….
We have downloaded the free maps from the opeen street map project for our Garmin GPS. Through this website from the Netherlands they can be downloaded in a format that can be easily used for different GPS devices – try it. The whole world for free!
Very good information on the Carnet de Passage from ADAC in Germany – they also have a lot of other very valuable information – however, mostly in German!
Other travellers
Check out this amazing woman and her "Because I Can" world tour – it is a brilliant reason to go our there, and do it… because you can! She has ridden more than 3 years around the world – solo! Woohoo!
Swiss couple that we met in Cambodia, Laos, Thailand….
Lorenz und Gisela from Switzerland – traveling with their Saurer truck since 2008. We met them in Khao Lak / Thailand.
Marko from Finnland on the way around the world on his R1200GS. We have very similar plans for the next 2-3 years, so we probably meet again….
German couple Bea & Helle, since June 2011 on their way around the world on their motorcycles.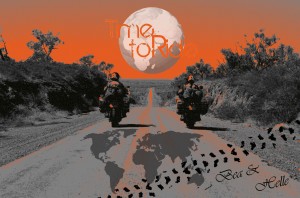 We met them already a few times – first in India, then in Nepal and finally in Thailand – next time in …. ?
Solo woman travelling the world on her Suzuki – we met her in Nepal and rode with her for some days.
Two-wheeled adventures of Nita & Issa on their RTW trip.
2 RIDE THE WORLD – LISA & SIMON
They ride two Motorcycles, unsupported, through 122 countries, across all 7 continents in one continuous journey – that's their goal.