September 10, 2013 in Indonesia, On the road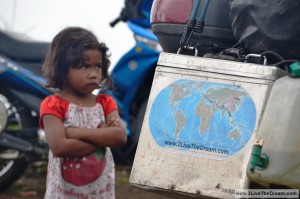 Colourful Bali, Islamic Lombok, traditional Sumbawa, mountainous Flores, and emerging Timor – the islands of Indonesia are incredibly diverse. Whenever we came to another island it felt more like entering a new country, and not just another island of Indonesia. After we had already travelled across the bigger islands, Sumatra and Java, we were now hopping from one of the smaller island to the next – trying to get as close to Australia as possible.
Six different ferries we had to take in total to cross Indonesia from west to east. Some of the ferries were professional, and run on a tight schedule. Others were a complete mess. The shortest took only about one hour, the longest more than 15 hours. But all had one thing in common: the vessels were all in a terrible condition – and about the sanitary facilities we better don't talk…
Bali, the first of the smaller islands after Java, was extremely touristy. We saw colourful Hindu temples, artistic decorations, and beautiful carvings everywhere – all mixed with green rice fields and stunning volcanoes – and with lots and lots of tourists that were everywhere in their buses, mini-vans and rental cars. Not exactly what we were looking for. However, a nice side effect of the huge number of tourists was that we could excellent steaks and pasta.
Our next stop was Lombok, which was much quieter than Bali. We found some fantastic beaches in the south, where we spent a few days relaxing. But the island is also changing rapidly, and it is becoming more touristic now. Soon the quiet days will be over on Lombok.
Sumbawa is still far off the beaten track – one of the main reasons why we liked it so much. We found some beautiful beaches there, and compared to the rest of Indonesia the roads were quiet and empty. Finally, riding was fun again and not only dodging suicidal traffic. Apart from the main route through the island, the roads were still in bad condition – a lot of fun for us exploring them!
The ferry to Flores was running only once a day – and it took us already more than half a day to find out at what time. But the seven-hour-trip itself was fantastic. We travelled along the famous Komodo islands, until Flores suddenly loomed right in front of us with its steep mountain flanks, covered in green jungle and small roads that were winding through this amazing landscape.
Observing the cultural change was also fascinating. After colourful Hindu Bali, and the very traditional Muslim Sumbawa, we suddenly found ourselves in a very Catholic area influenced by the Portuguese. We saw teenagers wearing "I love Jesus" t-shirts – a strange sight. And young couples, walking hand in hand across the street – something we hadn't seen for quite a while.
The ferry to Timor then caused us quite a headache. We had planned to take the ferry from the city of Ende. However, when we arrived there we were told that it was broken, and that it would go "maybe next month". After some research we eventually found out that there would be another ferry in Larantuka, on the other side of the island – "in three or four days – maybe". Luckily this information turned out to be true.
The ferry ride took a bit more than 15 hours – an absolute chaos. All decks were jam-packed. People were everywhere, sleeping on the floor and the car decks – poor chicken and pigs crammed in between. Luckily we could get a place on the upper deck and set up our camp there. At least we had some fresh air and the stars above us in the night.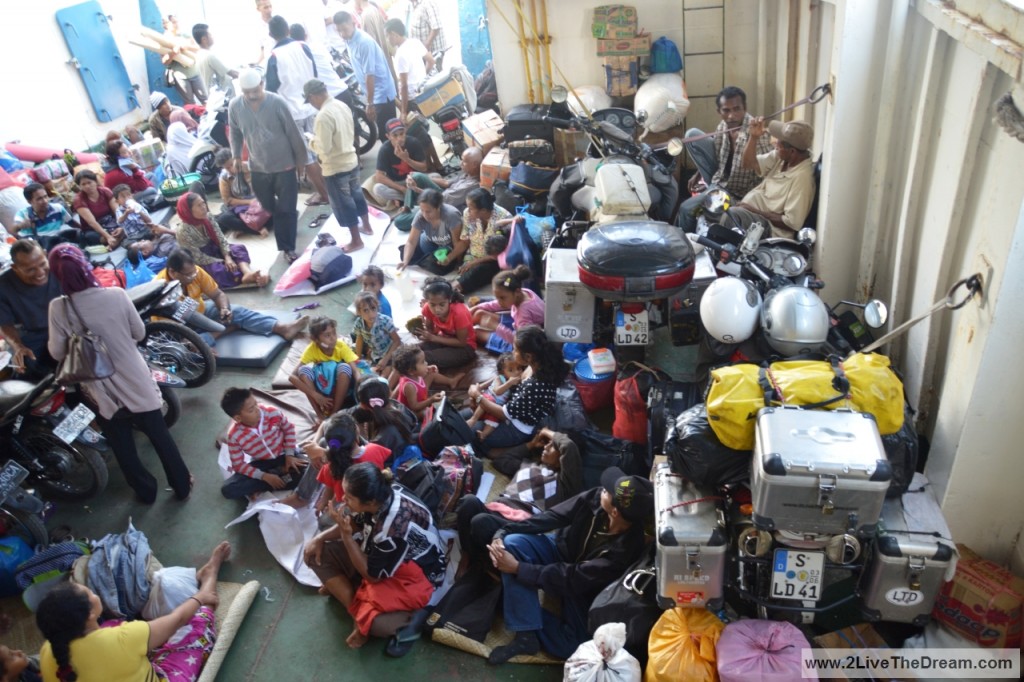 The western part of Timor, which still belongs to Indonesia, is rapidly developing at the moment. In Kupang we went to the consulate of Timor Leste (East Timor) to get our permission letters for the visas. After a lot of begging we got them one day faster than officially stated. But later we found out that with more begging you can even get it on the same day. Whilst we were waiting for the visas we were invited by Michel, a German that has built up a very nice hotel there – a great change from usual dodgy Indonesian rooms that we were used to.
We then had to hurry to get to Timor Leste because our visas for Indonesia were expiring. We travelled together with Si and Jeff, a couple from the US that we had met already in Nepal. Now in Timor our ways had crossed again. On the last day of the validity of our 60-days visas for Indonesia we crossed the border and left the country.
Timor Leste was again another different world. Our biggest adventure there was getting the bikes ready for Australia – i.e. cleaning them for the quarantine inspection. And just getting them into the shipping container without spending too much money is another story… But more about that in our next blog post!
Travel Information
Money: Indonesian Rupiah. 1  EUR are approx. 13000 Rupiah. ATMs can be found in all cities, and along the main roads.
Visa: You can get 1 month on arrival at the international airports, and at the major sea ports. We organized our 2-month visas in advance at the embassy in Kuala Lumpur.
Traffic: You have to be very careful of cars and trucks suddenly coming around the corners on the wrong side, and big potholes are everywhere. The further east you go, the quieter are the roads.
Roads: Main roads are paved, but often full of potholes and in bad condition. Small side roads can lead to adventures.
Motorcycles: The import is rather difficult, you need some kind of invitation letter from the transportation ministry or so…. We shipped our motorcycles from Penang/Malaysia to Sumatra with Cakrashipping, in which case you don't need that letter, and it still seem to be the cheapest option. For the latest information you should consult the forums at www.horizonsunlimited.com.
Fuel: Petrol can be found everywhere, but the quality ("Premium") is terrible (less than 90 Octane), 92 Octane can be found in the cities. It costs about 0.50 EUR per litre (6000 Indonesian Rupiah)
Accommodation: Hotels in Indonesia are often terrible, if you want a clean room you will have to pay more. Don't expect western standards. But Breakfast or at least coffee/tea is usually included.