June 21, 2013 in Indonesia, On the road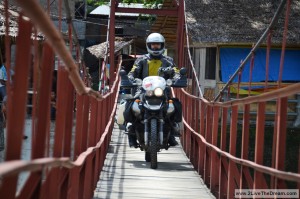 Sumatra, just one island of many in Indonesia that we had planned to cross – that's what we thought, but it turned out that we had completely underestimated the size. Sumatra is the fourth biggest island in the world, and has a length of more than 1700 kilometres (approx. the distance from Berlin to Sicily)!
We arrived in Medan, which is in the north-east of the island. It is a big city consisting of ugly concrete buildings that sprawl out over a huge area, dirty and chaotic – quite a culture shock after our visit to the modern city of Singapore. Therefore, we left as soon as we got our motorcycles back. Luckily, they had survived the shipping on the small freight vessels undamaged.
Unfortunately, we didn't have time to explore the area around Aceh further north in Sumatra. We had only 14 days left to reach Jakarta on Java, and we had to be in time, because visitors from home were arriving there.
Our first stop was Lake Toba, a massive lake of volcanic origin, located in the middle of Sumatra, and with a beautiful island, where we spent two days. The fantastic landscape, the nice climate, and the friendly Batak people of this area with their ornate traditional house, made it difficult for us to leave again. By the way, it was the first area that we travelled through that was predominantly Christian since we had left Europe.
Allover Sumatra, we were amazed: jungles, volcanoes, curvy roads through the beautiful mountainous landscape, crater lakes, and the incredibly friendly people everywhere we went – Sumatra was simply great, even though the weather was not always on our side and we got wet more than once.
The distances on Sumatra are easily underestimated, especially since many roads are in a terrible condition and full of dangerous potholes. We could travel only slowly, and spend some very long days riding.
Right in the middle of the massive island we crossed the equator. However, without the gigantic sign over the road and without our GPS devices we wouldn't actually have noticed it. But knowing where we were, it was a special moment. We had managed to ride all the way to the equator in Indonesia on our motorcycles – and now we would continue our trip on the southern hemisphere – crazy feeling!
Already in the southern part of Sumatra, we passed the highest peak of Indonesia, the mighty Mount Kerinchi, a 3805 metres high volcano, surrounded by huge tea plantations – fantastic scenery, with empty roads and fascinating plants and animals.
Further south we then came through endless coffee growing areas, everywhere by and on the road the coffee beans were spread out for drying – well, actually they were not the beans, but the berries, which grow on bushes and only the seeds inside are roasted and form the actual coffee bean that we know in Europe.
The traffic got worse the further we got to the south. The last two days riding were no fun at all. Dust, potholes, lots of trucks, traffic chaos, diesel fumes, and grime everywhere. In the evenings our faces were covered with a black smear… and what we got into our lungs, we better don't think of it….
The people were always enthusiastic, friendly and helpful. However, after some time it was also annoying that we were constantly watched and people kept starring at us, simply because we were the only white people in town. And they took pictures of us, all the time, everywhere…. every minute somebody stuck a smart phone camera into our face…. stupid technological advance – it seem that everybody has a smart phone in his pocket now, and takes photos with it – mainly of us…. at least it felt like that.
From Sumatra we took the ferry to Java – the next island, with more traffic, more people, more volcanoes, and again a completely different world. More about Java in our next blog post….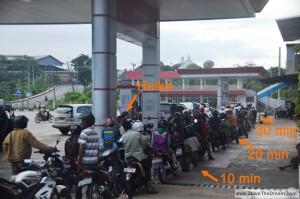 Travel Information
Money: Indonesian Rupee. 1  EUR are approx. 13000 Rupees. ATMs can be found in all cities, and along the main roads.
Visa: You can get 1 month on arrival at the international airports, and at the major sea ports. We organized our 2-month visas in advance at the embassy in Kuala Lumpur.
Traffic: apart from the south of Sumatra it is not too bad – the driving style is chaotic and absolutely careless, but still better than in India.
Roads: Main roads are paved, but often full of potholes and in quite bad condition. Small side roads can lead to adventures….
Motorcycles: The import is rather difficult, you need some kind of invitation letter from the transportation ministry or so…. We shipped our motorcycles from Penang/Malaysia with Cakrashipping, in which case you don't need that letter, and it still seem to be the cheapest option. For the latest information you should consult the forums at www.horizonsunlimited.com.
Fuel: petrol stations are infrequent, and the quality ("Premium") is terrible (less than 90 Octane), 92 Octane can be found only in the cities. In the south it was difficult to find fuel, since it was often sold out, and when they had some we had to queue for it…. But it's cheap – only about 0.40 EUR per litre (4500 Indonesian Rupee)
Accommodation: Hotels in Indonesia are often terrible, if you want a clean room you will have to pay more. Don't expect western standards. But Breakfast or at least coffee/tea is usually included.