September 15, 2013 in Timor Leste, On the road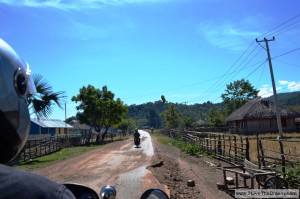 While we were in Timor Leste, we were mainly busy with cleaning the motorcycles for the quarantine inspection in Australia. But we also used the chance to fix a few things that we had on our list already for a long time, we met other overland travellers, and of cause we also set off to explore a little bit of this small country with the high prices.
The country Timor Leste comprises the eastern part of the island of Timor. It has a population of only 1.1 Million, and it is the poorest country in Asia. It became independent from Indonesia only a few years ago, after a civil war. The traces of this sad history can still be seen and felt.
UN troops and aid organisations have spoiled the prices in the country, especially in the capital Dili. Even though it is the poorest country of Asia, prices are about three to four times as high as in the neighbouring country of Indonesia; e.g. a basic hotel room costs about 40 US Dollar.
It made us really angry to see those aid workers sitting in restaurants, wearing nice designer clothes, the table full with expensive dishes and wine bottles. Whilst spending hundreds of dollars for a dinner they were discussing how to help the poor people of the country…
Also the traces of Portugal, to which Timor Leste belonged until 1975, can still be seen everywhere. They sell red wine in the shops, Catholic churches are everywhere, and the people rather speak Portuguese than English.
So this was the place where we had to clean our bikes for the strictest quarantine inspection in the whole world in Darwin.  According to the Australian officials vehicles that are imported into Australia have to be "as clean as new… " – but Asian dust goes deep, and we had already heard lots of horror stories from other travellers. Therefore, we were really worried about the inspection already for quite a while.
We took both motorcycles completely apart for the cleaning. This made it much easier. It also allowed us to repair a few minor problems, and we took the chance for a major check of everything. We found quite a few loose things and nuts and bolts that we had lost since we had left home.
In the beginning we thought that we had all the time in the world to clean the bikes. So we didn't hurry much. However, in the end it got a bit hectic. The shipping agency suddenly told us that all motorcycles had to be in the container by the next day, because the vessel was now going to arrive some days earlier than expected. The fact that Filippo's 1150 was still lying in about 1000 pieces in the courtyard of our hotel caused some panic attacks on our side when we received the news…
We could negotiate another half day until the bikes had to be in the container, but we still had to do a night shift to finish the cleaning, to put everything back together, and to pack up all our gear. Therefore, a major fit of rage occurred on the next day when they told us after we had finally brought the bike to the container yard: "you can take your time, the vessel is not going to arrive until five days from now"…
In the end, the vessel wasn't delayed by only five days, but by 22 days. And our container even took a detour via Singapore…
In total there were five motorcycles in our container. There were of course our two BMWs; there was a 500cc Royal Enfield, a Suzuki DR 650, and a Yamaha Tenere.
The Royal Enfield belonged to Peter. He is from Australia and had travelled South-East Asia for a few months. We had already met him several times in Laos, and now our paths had suddenly crossed again – by sheer coincidence. He was about to finish his trip, and going home now.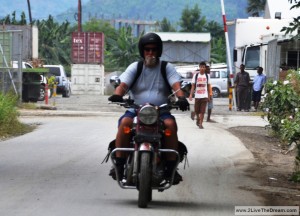 The Suzuki DR was John's, who is also Australian. He had planned to do a tour through Indonesia. But right at the beginning he had a little accident where he hurt himself. So he decided to return back home.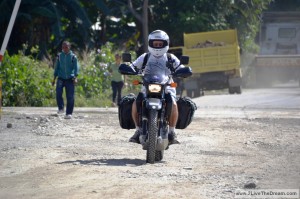 And the Yamaha Tenere belonged to the French-German couple Lea and Julien. They had started from Germany one year ago with two motorcycles. But one of them broke down in Dubai with a ruined engine, and so they had simply continued their trip to Sydney two-up.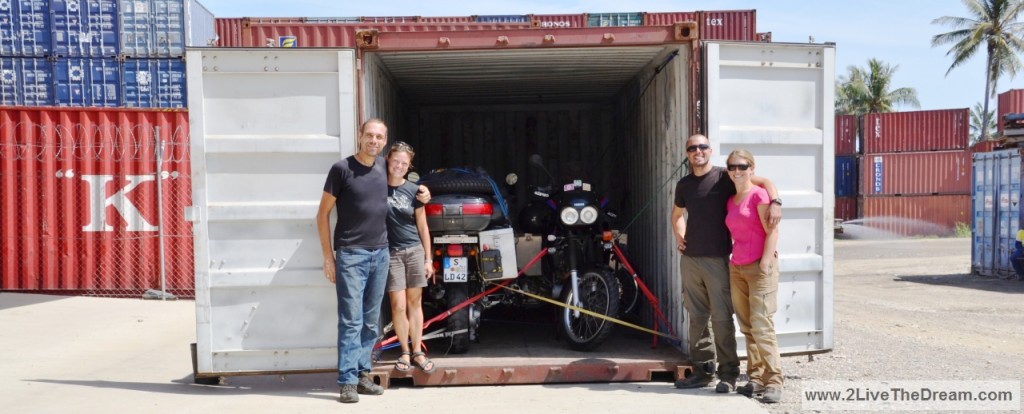 And of course, there were still Si and Jeff, the American couple with whom we had crossed the border from Indonesia. However, they were heading now in a different direction shipping their BMW to Canada.
And last but not least, there was Christian form Germany. He was exploring Indonesia with his Kawasaki KLX250, and has been living in Bali for a while.
How the story continued after the delay of the container, how we managed to get over the culture- and price shock in Australia, and whether our motorcycles passed the quarantine inspection after our frantic cleaning marathon you can read in our next blog post.
Travel information Timor Leste
Money: They use US Dollar, ATMs can be found in Dili
Motorcycles: Better take a light dirt bike to explore the country. We had the Carnet stamped at the border because the shipping agency needs it.
Visa: Upon arrival at the airport. If you come over the land border, you have to get a permission letter at the embassy in Kupang/Timor or Bali/Denpasar in advance.
Accommodation: There are plenty of hotels in Dili, but it is difficult to find a place for less than 40 US Dollar per night. There are also a few cheaper backpacker hostels with dormbeds.
Roads: Roads are a terrible condition: bridges are missing, mostly not paved – lots of adventure.