April 5, 2012 in Motorcycles & Technics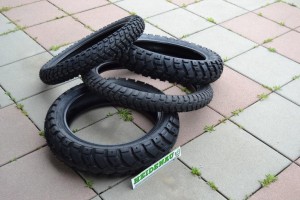 Which tyres should one choose for a trip like ours? There will be gravel, tarmac, mud, dust, sand, potholes – and more important: lots and lots of kilometres…. Therefore, our main worry was how long the tyres will last, but of course they should also have some off-road capabilities and should be stable in wet conditions.
After some research and speaking to other travellers, we have decided to go for the Heidenau K60 Scout, which fulfils our requirements best.
And we were very happy to hear that the company Heidenau would provide us with two sets of tyres for our trip. Thank you very much! We will test them thoroughly and report our experiences!