April 4, 2012 in Travel preparations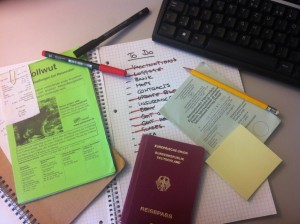 We have been asked to share our to-do-list on the website. Below you find it with all the things that we had to do and issues that had to be sorted out before we could actually leave:
define departure date (roughly)
define route (roughly)
quit job
cancel rental agreement for appartment
set-up website
set-up social media profiles
organize server for online storage of documents
travel insurance – keep insurance at home? which insurance whilst travelling?
cancel contracts & subscriptions: insurances, telephone, internet, …
check passport / renew
driving licence / international driving licence
international motorcycle documents
carnet de passage
visa? – for which countries? – apply!
bussiness cards / stickers
banking account, get 2 credit cards, limits?
get road maps & guidebooks
GPS maps
photocopy & laminate documents
scan documents & put on server
motorcycle equipment: check! what has to be exchanged, what has to be purchased?
motorcycle maintainance: check everything, exchange wearing parts, check weak points!
who could look after things at home (mail, finances, etc.)? – issue certificate of authority!
who could send spares and other stuff when needed?
clean out the house, garage, cellar, … throw away, give a way, sell everything!
Of course there were more bullets on our real list – mainly things that were related to our individual and personal situation (e.g. living in different countries, getting married…). They are not listed here.