October 16, 2012 in India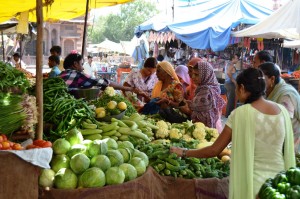 Stone age and future, culture and chaos, nature and rubbish, wealth and poverty – all this is India. It is a country that is extremely difficult to describe, just as difficult as it is to understand it. You could probably spend years in India, and you still wouldn't be able to understand the country and its people completely.
In the blog of two other travelers, which we met in Leh, we read that it is not possible to understand India rationally or logically (here's the link to their excellent blog, but it is in German only). This really hits the nail on the head! If you are using a logical approach to understand, why India is exactly like it is, and why the Indians are just like they are, you will fail.
India is not an easy country, it is not pleasant, and it is not easy to comprehend. But it is a very fascinating country with a rich and very diverse culture, which often changes drastically within only few kilometers.  India has many different facades, and just as many different landscapes.
We especially liked the north of India, the region of Ladakh in the Himalaya (go to the blog post No. 1 or No. 2 or see the photo gallery). But also what we saw from the rest of the country was worth the visit (read more). We would have liked to spend more time in India in order to see more of the other areas. However, what made us finally leave is the mad and dangerous traffic. It is not only the constant use of the horn, and the always present noise, which pulled our nerves, it is also the way the Indians drive, which really killed a lot of the fun travelling in this country. Constantly we had to be 150% alert to avoid being killed by a manic truck- or bus-driver. And as soon as we got into some thicker traffic, rickshaws and motorcycles started to bump into our panniers, and were trying to push through the smallest gaps. It simply isn't fun to ride a big motorcycle in India – except on the lonely roads in the Himalaya.
We really enjoyed our time in India – but two months were enough. Maybe we will come back one day – there still remains so much to see. However, the next time we will come definitely without the motorcycles.
More photos in our photo gallery "The different faces of India"