October 14, 2012 in India, On the road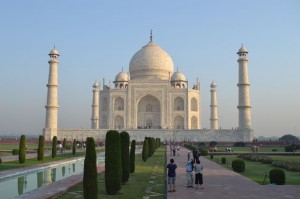 During our tour through Rajastan and afterwards in Agra we went for some cultural sightseeing. We visited the impressive fort and palace in Jodhpur, and the colourful Havelis in Mandwa. We went to Pushkar to see the Brahma temple and the pilgrims. And finally, in Agra we visited the famous landmark of India: the Taj Mahal.
The colourful Havelis are mainly found around the small city of Mandwa. The walls of these old mansions are covered with frescos and paintings. Many Havelis are privately owned, and so it is not always possible to visit them. But we had the chance to stay overnight in one, which was particularly beautiful.
Above the city of Jodhpur lies a huge fort with a palace, which can be visited. The whole site is still privately owned by descendants of the former rulers of this area. The architecture and the historic exhibits inside the palace are really impressive. Also the view on the city from there is worth the visit: you look down at the chaotic maze of the old city with its houses painted in blue, which is believed to have a cooling effect and to keep mosquitos away – and it is the reason, why Jodhpur is called the blue city.
Pushkar is home to the only Brahma temple in the world (we were told), and it is located around a small holy lake. Many Hindus come here to visit the temple, and to take a bath in the holy water of the lake afterwards. The temple itself is not special, and a bath in the holy dirty lake full of rubbish is most probably rather dangerous for your health – but the place and the ritual has a special meaning for the Hindus. Pushkar itself is generally very dirty and full of vendors trying to extract as much money of you as possible. However, we enjoyed the atmosphere and watching all the crazy going-on there.
And then we went to Agra and the Taj Mahal – the famous icon of love! It is actually a mausoleum, which the Shah built for his favourite wife when she died giving birth to her 14th child. The place is really amazingly beautiful, and definitely worth a visit. We went there right at sunrise to escape the heat and the huge crowd of bus tourists that are usually arriving later in the day. And the light is also much nicer during that time of the day.