September 6, 2012 in Equipment, Motorcycles & Technics
Tarmac, gravel, dust, sand, mud, pot-holes, stones, grass – we basically have ridden over almost all surfaces and through all road-conditions by now – and at temperatures between 0° and 50° C.
Our tyres, the Heidenau K60 Scout carried us through all this without any problems. After more than 18.000 kilometres that we have covered by now, we can confirm that it is really the perfect tyre for a long-distance journey by motorcycle.
After 16.300 kilometres we changed the tyres for the first time, even though it wasn't necessary at this point of time, because all of the tires had still quite a lot of profile left, despite the fact that we are heavily loaded and that were doing a lot of kilometres on really bad roads and off-road. We think that the tyres would have lasted for 3000-5000 kilometres more, of course depending on the motorcycle.
On the following g pictures you can see how much profile was left on the tyres from the R1150GS, when we changed them after 16.300 kilometres:
And here is the front tyre of the F650GS at the same point of time: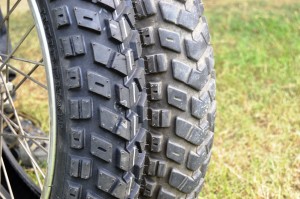 The back tyre on the F650GS we had to change already after 13.100 kilometres, because it was damaged and had a fissure. There was still enough profile left that it really hurt to throw the tyre away that early.
The fissure existed already since Montenegro, where Heike went over a sharp piece of metal on the road. We could fix the tyre and it lasted for more than 10.000 kilometres more despite the heat, the bad roads, and not always the most careful driving-style…. However, the fissure slowly became bigger and bigger, and so we changed it as soon as we got our new tyres delivered.
In summary, the Heidenau K60 (Scout) is definitely the perfect tyre for our tour. Since they wear down very slowly, and because of their excellent driving characteristics in almost every situation we will further rely on them. Of course, if you do some serious off-road stuff they are not as good a real knobblies – but they last much longer. For us they definitely do the job, also off road. A little minus is maybe that they are sometimes a little more slippery on wet tarmac than real road-tyres. But they still have more grip than e.g. the TKC80.
So, if you are currently looking for a tyre for a long-distance ride: we recommend you choose the Heidenau K60 (Scout).
Our recommendation: the Heidenau K60 Scout