June 10, 2012 in Turkey, On the road, Events & Meetings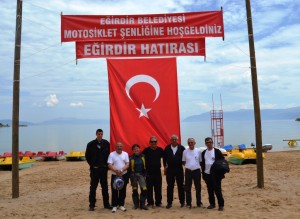 We know motorcycle festivals at home – you meet like-minded people, you talk, you have a beer or two, you tell stories of your travels or you talk about the motorcycle techniques and equipment – some rock music and BBQ: these are  normally the credentials of a motorcycle meeting or festival in central Europe.
Now we have also experienced a motorcycle festival in Turkey, and actually most of it was not so different from a meeting at home – but it still was very different from what we know. But in any case: it was a great experience. 
We were just about to look for a place to set up our tent for the night, when in a supermarket we were told about this meeting. And of course we didn't want to miss this chance and so we went there.
We were welcomed with open arms, and of course we were also a bit of an attraction beeing the only non-Turkish motorcycle riders there. Heike as a woman attracted some more attention: She even got an award for beeing the only woman at the festival that was riding a bike herself.
Beer, motorcycle talk, BBQ, fire, rock musique – all this was also present at the meeting in Turkey. But it was rather special that the whole festival was also a kind of a party for the whole city, where everybody went to see the freaks on their motorcycles – including the mayor, who stayed with a very serious but friendly face until the music stopped. In front of the stage motorcycle rockers and children where jumping to the music – and the folk dance in traditional clothes was also rather unexpected at such a meeting.
It was a very nice and interesting experience. It has shown us that we are not so different from each other – but still, a motorcycle festival in Turkey is something completely different from what we know at home.
We met many friendly people and experienced great hospitality. Thanky you very much to all that bought us tea, water, ice cream, beer, …. and that have translated for us – otherwise we would have been completely lost!