February 26, 2013 in Laos, On the road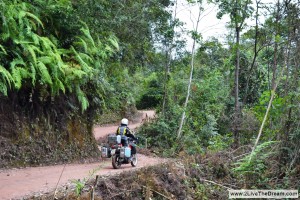 We took a little bit more than two weeks to travel the north of Laos. It's a beautiful area that seems like it is made solely for motorcycling. The twisty roads that run through the fantastic mountain landscape are generally in a relatively good condition. Traffic is almost non-existent, and for those that love to go off-road, there are many adventurous alternatives over muddy and dusty jungle roads.
Our route took us first from Houei Xai, where we had entered the country coming from Thailand, to Luang Namtha. From there we went after a short expedition to the Chinese border to Oudom Xai, and Nong Khiew, where we stayed for two days and explored the impressive limestone cliffs around the river in that area.
Over one of the most beautiful and scenic roads in the whole country, and through very poor and traditional villages, we continued to Vieng Thong and then to Phonsavanh, where we visited the incredible Plain of Jars. Hundreds or maybe thousands of huge stone jars, made of solid rock and more than 2000 years old, are lying around in this area. Nobody knows, what they were made for, and by which culture. However, the local guides like to tell stories that they were actually made to brew Laos Whiskey in there…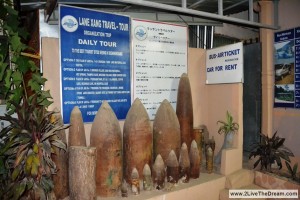 The area around Phonsavanh is also one of the most heavily affected by the bombings during the Indochina war. Still, huge areas are full of cluster bombs. Before we came to Laos we didn't know that it is the most heavily bombed country in the history. The Americans dropped more bombs on Laos during the Indochina war than the Allied Forces on Germany and Japan together during the whole World War II. About one third of the cluster bombs did not explode, and now they pose a terrible threat for the people, especially the farmers. Every year people die or become invalids due to these "bombies" – that's how they are called in Lao slang.
Our next stop was Luang Prabang – it's one of the most beautiful cities in whole Asia, full of Buddhist temples, with stunning sun sets over the Mekong river, and with a relaxed French-colonial charm, incl. several "boulangeries" that are serving fresh baguette and croissant. It is also worth to visit the Kuang Xi waterfall about 25 kilometres south – take your swimming clothes!
From Luang Prabang we went over the so called "shortcut" – a very nice dust road with many easy river crossings – to Hongsa. Here we stayed at Monica's Jumbo guest house, and were treated to the first "Käsespätzle" (a classic German dish with homemade noodles and cheese…) since many months. We also made a tour on an Elephant in Hongsa. It was a very special experience to ride on one of these mighty beasts through the jungle, especially since this area is a little bit off the normal tourist track.
We then went back to the tourists, i.e. towards Vang Vieng. Part of the route led us over a scenic road through the mountains, which in some areas actually reminded us of southern France or the Pyrenees. The road is still marked as a dirt track in our map, however they are heavily working on it, and from the next year on it will probably be tarmac all the way through.
The touristy Vang Vieng with its limestone rocks, bars and restaurants wasn't very appealing to us – drunk back packers falling over on the streets, and "happy tubing" are not the kind of entertainment we especially enjoy – therefore, we stayed only one night, and the next day we went to Vientiane over some fantastic dust roads that are a great alternative to the boring main road.
More pictures in our photo gallery Laos
The rest of our tour through Laos we will describe in our next blog post. We will then go to the South of the country.
If you are interested in our GPS tracks, just send us a message.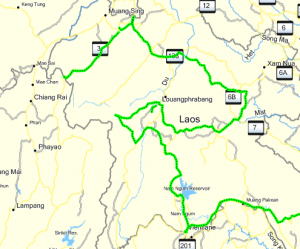 Travel information
Visa – You get 30 days upon arrival (also at the land border; 30 US$). We heard that it can be extended in the country.
Fuel – It is available almost everywhere; but mostly they have only 91 Octane.
Currency – Lao Kip. 10000 Kip are about 1 EUR
ATM machines – They can easily be found in all cities and tourist hot-spots; you have to pay about 20000 to 40000 Kip per transaction.
Roads – Everything exists in Laos: from wild jungle tracks to four-lane roads in excellent condition. Almost all of the main roads are asphalted and in good condition. But if you are looking for some more adventurous roads, they are easy to find…
Costs – Food starts at about 20000 Kip (2 EUR), beer costs about 10000  (1 EUR) Kip per bottle, guest houses start (depending where you are) at 50000 -100000 Kip (5-10 EUR) per room
Traffic – Almost none. It's a right hand driving country.
Carnet de Passage? – We used it, but it is not required.
Ferries – The ferries over the rivers are relatively expensive. We paid between 20000 and 50000 Kip per Motorcycle – negotiations were almost never successful.