July 19, 2012 in Pakistan, On the road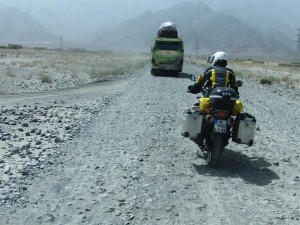 Travelling overland from Iran to Pakistan you have to cross Baluchistan. This area in Pakistan stretches along the Afghan border from the Iranian border at Taftan until a few hundred kilometers north of Quetta.
Baluchistan is well known for being dangerous and not very peaceful. Almost daily there are attacks somewhere in this area, and we were told that in addition there are also bandits that make the roads unsafe. We didn't get involved into any of this, we only heard about it; but the numerous police checkpoints made it clear that there is a real threat.
We had to travel with military or police escorts. The closer we got thereby to the city of Quetta, which is the capital of the province, the more nervous got the police. And in the small town where we had to spend one night on the way we were not allowed to leave the hotel.
Sometimes, we had to wait for a long time at the checkpoints until the next escort would arrive. With the extreme heat of up to 50°C this actually wasn't much fun, and when you have to sign your name, passport number, etc. into a book for about 30 times a day, it gets really annoying. But we also had some nice experiences there. Often we were invited for tea, and we had to pose with the soldiers for pictures.
Between Taftan and Quetta you can buy petrol only on the black market. We don't really want to know what we put into our tanks out of the big jerry cans, and filtered only through a dirty piece of fabric. But what choice did we have – there is no alternative.
The roads change from good to full of potholes to a mix of broken tarmac with small sand dunes across the road. You have to be continuously fully concentrated to avoid any unexpected holes or obstacles.
In Quetta we stayed a few days, since Filippo had problems with his clutch, and because we also had to organize our NOC, which is the permit to continue travelling beyond Quetta on your own. We could fix the problem with the clutch, at least provisionally, but the NOC was denied – so we had to continue by train. But the journey on the train is another story, which we will tell in the next blog post.
The reason why we didn't get the NOC remains unclear to us. The officials said because of security reasons, and apparently nobody could get it for months. But we know from other travelers that they did get the NOC. And the argument with the security is also a bit doubtful, because in the hotel we were told that there was an attack on a train station on the way only two weeks ago…
In Quetta itself we could walk around on our own, even though we were told that it is particularly dangerous. When we arrived in Quetta in the evening police and military were extremely nervous, wearing helmets and bullet-proof vests and holding there machine-guns like they were expected to be attacked any time. Since all the hassle with the escorts took too long for us, we just sneaked away from them, and escaped through the mad traffic. We went straight for a hotel, which seemed to us safer than standing around with military and police and attracting a lot of attention.
So, we "survived" Baluchistan, and actually had no major problems. It is a pity that the security situation is so bad that we could go and explore the area a bit further. The landscape is really nice, and the people we met were very careful, but also very friendly towards us.
Here are two short films that we made in Baluchistan, and further below you find more photos:
Riding through the desert in Baluchistan / Pakistan – when we could travel without escort for a few kilometers.
Service in Pakistan is really good; even in the desert you get cold drinks served 🙂