February 16, 2014 in Australia, On the road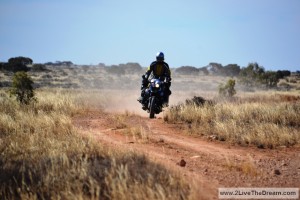 Once more, we had to cover huge distances in Australia on our way from the West to the East – a few thousand kilometres, all the way through the south of Australia. Luckily, our route took us through quite different landscapes, and for a change, we had some variation: huge forests with giant trees, beautiful beaches, spectacular coast lines and dunes, high cliffs, dazzling salt lakes, undulating wine growing areas, in between a vast tree-less nothing, endless grain fields, modern cities, deserted traces from the first settlers, and once more we experienced the wonderful hospitality of the people – some were old acquaintances, others became new friends.
After we had left Perth, we first headed down into the South-West, which we wanted to explore before we finally turned east. We discovered beautiful beaches and spectacular coast lines, where the waves of the open ocean thundered against the cliffs. We explored the nice small villages of the area, and we enjoyed travelling at moderate temperatures , and on roads that twisted through the hilly landscapes.
We hadn't seen forests for a long time. And the forests here were really spectacular with the giant Karri Trees that can grow up to 90 metres high. They are some of the tallest hardwood trees in the world. Some are hollow and you can walk through them. Others were used as fire lookouts, and you can still climb up to the platform. We went up one of the tress that was almost 70 metres high. It was quite spectacular to climb over the metal pins that spiral around the stem….
We then crossed the remarkable Stirling Ranges, and drove through endless grain fields towards Esperance, where we were invited by John and Stefanie. John, who is also a big fan of motorcycle travelling, had found our website somewhere on the web, and he had kindly invited us to stay with them, when we would come to Esperance. When we arrived, we planned to stay one or two nights with them – but in the end we stayed ten… it was just too nice to leave!

We could use John's workshop for some repairs on our bikes and equipment, and we could use their very well equipped kitchen to cook meals we had missed. We really got spoiled by their wonderful hospitality. John lend us his Nissan 4×4 to explore the dunes and the beach, they took us to a Christmas party and to the shooting range, we got plenty of information on tracks and sights, and we spent many hours with them just talking about travelling, motorcycles, and the life….
And we also met Nils, the little baby kangaroo, which they raise. He quite liked the Christmas decorations….
Just before we finally left Esperance, the annual Toy Ride took place. Toys for children from underprivileged families are collected during this event, so that these kids also have a present under the Christmas tree. But first, the decorated motorcycles, scooters, and vintage cars went for a ride around the town – it was great fun.
With mixed feelings we said goodbye to John and Stefanie. It was sad to say goodbye after such a wonderful time with them, but we were also looking forward to the road ahead of us. Fully equipped again with provisions and water we headed towards the Nullarbor – an area that is often mentioned with a bit of a respectful undertone: a huge dry plain, karst, without trees, without water, without any major settlements, and often very hot. It stretches over more than 1000 kilometres across the south of Australia until the next real town.  And it is also home to the longest straight road in Australia – 146 kilometres without a single bend.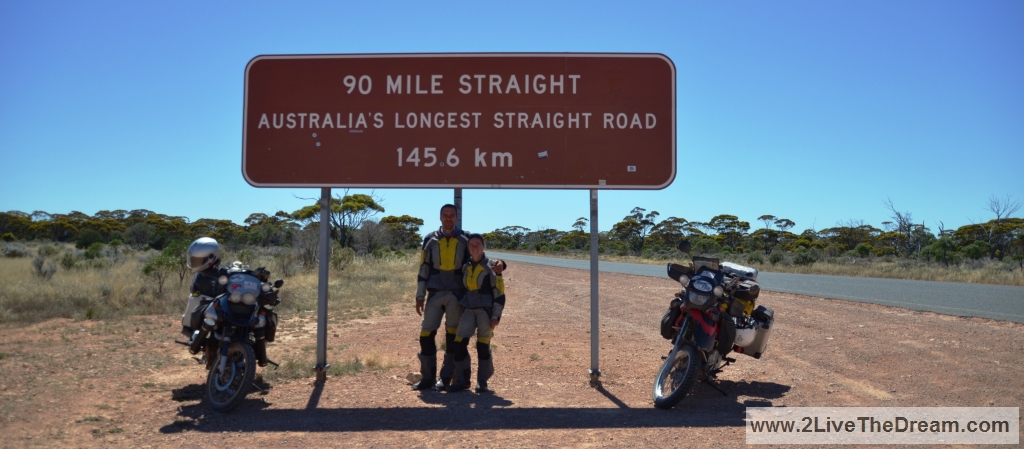 But thanks to the tips and tracks that we had received from John, the Nullarbor turned into a great experience. Already on the first kilometres we explored a few little side tracks, which we would have never discovered alone. We came across old deserted homesteads, the traces of the first European settlers in this area; we discovered some spectacular granite rock formations, great little trails through the bush, and wonderful bush camp sites.
Another off-road detour took us along the old telegraph track. The track was quite sandy in some places, overgrown, and we had to be very careful not to hit one of the stumps of a broken telegraph pole, or a tree that was hiding in the bushes. It was a great experience despite two flat tyres, and the blazing heat that caught us with temperatures around 40°C that day.
We discovered that it is not true that there are no trees across the Nullarbor (Latin: nullus arbor = no tree). But there are long stretches without trees. And water is definitely difficult to find. Even at the roadhouses along the way, we couldn't get water – at least not legally, because it wasn't allowed to fill containers and tanks with water there. But we just ignored the signs and sneaked into the washrooms to get water that often tasted terribly of chlorine.
On the way across the Nullarbor we once more met travelers on bicycles (one from Denmark, the other from England). We are always impressed when we meet cyclists that cover such huge distances in extreme conditions…. And we always stop to offer them water – because for us it is so much easier to carry it.
After we crossed the border from Western Australia into Southern Australia, we rode along the spectacular cliffs of the Great Australian Bight, where the Nullarbor drops into the Southern Ocean. Slowly, the area became more populated again, and soon after we had left the treeless plains we rode through giant grain fields.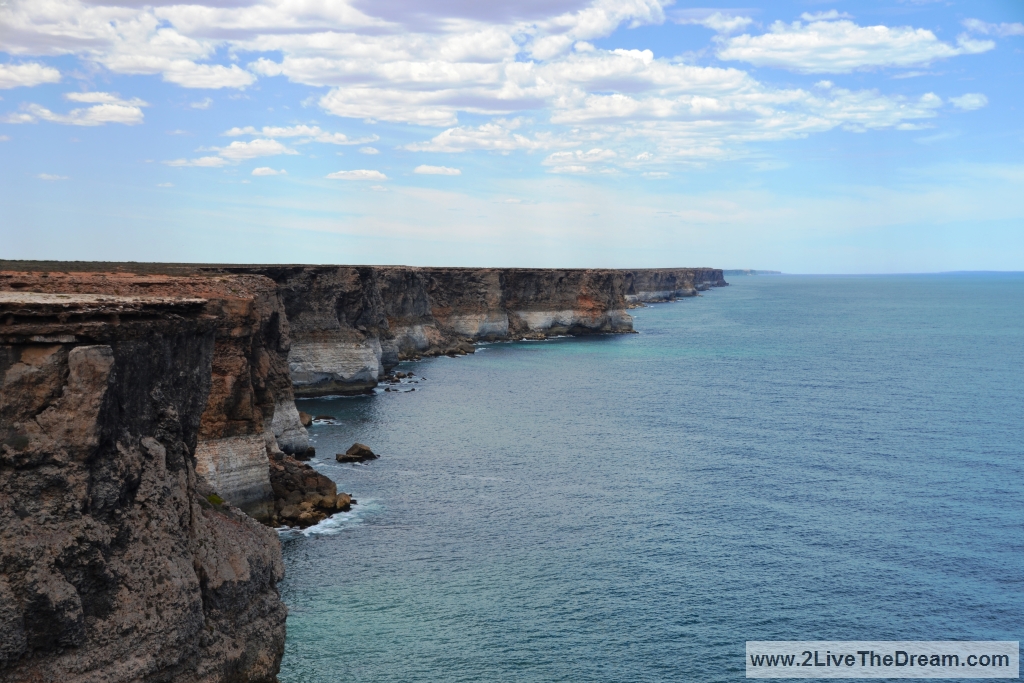 Along the coast, just before we reached Ceduna, the first actual town since we had left Esperance, we found some spectacular sand dunes and amazing camp spots.
We then headed further down south onto the Eyre Peninsula, which is mainly covered by endless grain fields, but it also offers spectacular coastline and fantastic camping spots on the beach.
One of the main reasons why we took the detour over the Eyre Peninsula was that we wanted to see Linda again. We had met her at the Horizons Unlimited Meeting in Brisbane. She has travelled a lot with her motorcycles during her whole life, and her most recent trip took her from Europe to Australia, on a similar route to ours – but she did it alone and in her 60s! Her stories and her enthusiasm, her sense of humour and her cheerfulness are really inspiring. She lives in Port Lincoln, on the south tip of the peninsula, and housed us for two days. She showed us around the area, and we saw our first wild Koalas down there. And she put her costume for her Christmas performance on for us….
After we had left Linda, we had to hurry towards Adelaide, where we had another appointment. We went across wine growing areas with nice twisty roads through the hills, and cute little towns. But unfortunately, we didn't have enough time to explore them any further.
Because in McLaren Flat, just south of Adelaide, we were invited for Christmas by Sherri Jo. Heike had met her a few years ago in the UK, and followed her since then online during her trip around the world, which took her more than three years. Sherri Jo is now back home for a bit longer than half a year. When she heard that we would come through around Christmas time, she invited us to stay with her for the holidays. We spent a really nice Christmas with her at her house, talking about travelling and the life, feasting on delicious food, including a wonderful roasted turkey. And we went on a little ride-out with the Triumph Club Adelaide.
Leaving Adelaide we followed the coast to Melbourne. First we went along the Coorong Lagoon, which is more than 100 kilometres long, and full of birds – spectacular! We then went through the hills along the border to Victoria, through huge forests and pine plantations there, and finally over the famous Great Ocean Road with its spectacular cliffs and twisty roads.
On one of the cliffs, just before the Great Ocean Road begins, and a bit off the tourist path, we celebrated New Year – all alone high up above the ocean with a spectacular view. We saw the sun dip into the ocean, the last sunset in 2013, the waves thundered onto the cliffs far below us – a really special place to welcome New Year. At midnight, we crawled out of our tent into the icy wind, opened a bottle of sparkling wine, and said hello to 2014.  But funnily, we had not realized that we had crossed into another time zone when we crossed the border into Victoria. Two days later, we found out that we had celebrated the New Year half an hour too late … 🙂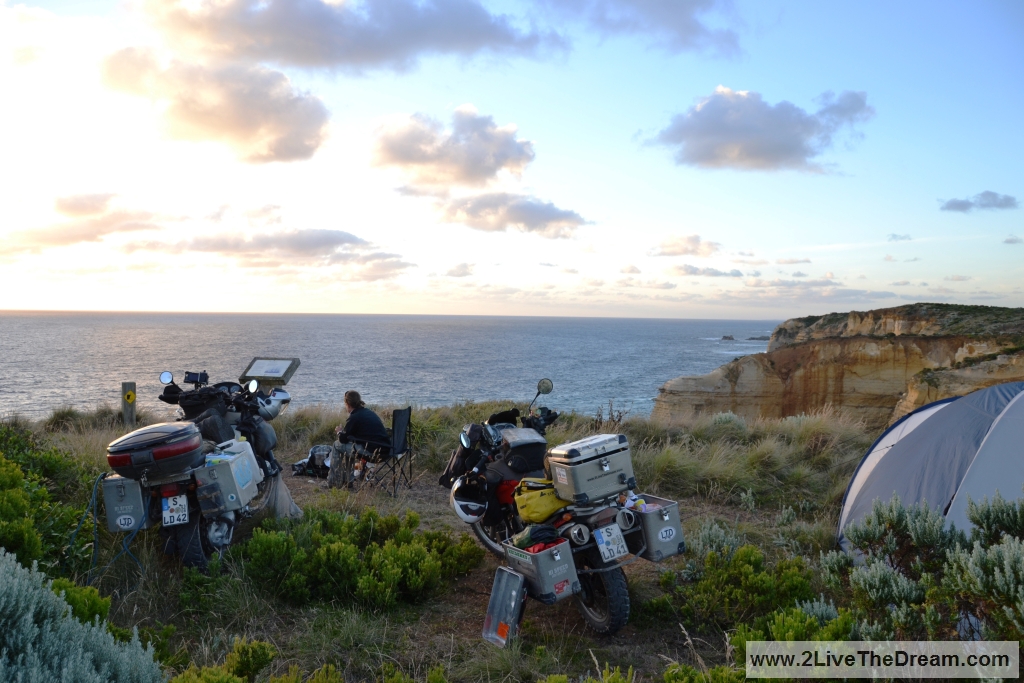 On the first of January, really bad weather with rain and heavy wind hit us. We couldn't enjoy the rest of the Great Ocean Road. The whole day it was pouring down until we reached Melbourne, and we didn't take a single picture that day – it was simply too wet to get the camera out of the bag.
Furthermore, whole Melbourne seemed to be travelling on the Great Ocean Road that day on their way home from holiday. We spend huge stretches of the famous Great Ocean Road standing in huge traffic jams, asking ourselves why people would fly around the whole world just to drive this road. Maybe it was the weather, maybe the traffic or the huge crowds of tourists – we don't know. But we definitely didn't like the Great Ocean Road very much; we have seen much nicer areas of Australia.
In Melbourne, we were very warmly welcomed by Lyn and Rob, whom we had met on the campsite in Darwin. We felt like in a 5-star-hotel: they treated us with tasty meals, a wonderful bed, they were great company, and gave us plenty of information on the city. And Filippo was happy to find a lathe in Rob's workshop, where he could finally repair the side stand of his 1150.
We spent a really good time in Melbourne exploring the city, which reminded us a lot of Europe with its mix of old and new buildings, the street cafes and trams everywhere, and the many little shops and art galleries.
From Melbourne we took the ferry to Tasmania, and in the next blog post we will tell you how we survived the passage from the big to the small island, which adventures we had there, and whom we have met again…. Watch this space!