May 7, 2013 in Thailand, On the road
We left Bangkok with mixed feelings. On the one hand, we were looking forward to Phuket where we would meet Filippo's brother and his wife in a few days. They were coming to visit and to spend their holidays with us. But on the other hand, we were also sad to say goodbye to our friend Joerg, and to leave the place where we had felt almost like at home during the last weeks. To read more about this time see our last blog post: Almost a new home… – Thailand part 1.
We had planned to go to Kanchanaburi first, to visit the famous bridge over the river Kwai, and for a short excursion into the mountains at the Burmese Mountains. But Heike's 650 had different plans with us. We managed to get to Kanchanaburi and to see the bridge. But we had to cancel the trip into the mountains, because without any warning the water-pump of the 650 stopped working. So we couldn't go any further, and we towed the bike to the next guest house, where Filippo "McGyver" managed to replace the broken water pump with the pump of a washing-machine. You find a detailed description of the water-pump story in our blog post: Travelling on a "washing-machine GS".
With this temporary replacement we could go further south, but it had cost some time and we had to skip the mountains. We needed three days to get to Phuket, where we were happy to meet our first visitors from home. We spent two weeks with Filippo's brother and his wife, exploring the area. But we also managed to get some work done on the bikes during that time, including the replacement of the water-pump.
After a sad goodbye from the family, we continued further south. We really enjoyed the stunning landscape and the beautiful beaches. We even found a beach that was so deserted that we decided to camp there for the night.
At first this seemed like a fantastic idea, and we had already imagined a beautiful sunset, and later a nice romantic fire on the beach. However, it turned out that it was a rather stupid idea. The photos look fantastic, but the reality was more like this: it was hot, incredibly hot. The fine sand was everywhere, sticking to our sweating bodies. Within a short time we had both cut our feet on the sharp palm-tree leafs, which were lying around everywhere. Just before sunset, we were suddenly attacked by billions of mosquitos, and the sand fleas were equally active, trying to get as much blood as possible out of our legs. And we were still sweating, whilst we tried to keep the sand out of our dinner. The fire was cancelled due to the temperature and the blood-thirsty insects. At night, it was hard to find some sleep, because it was simply too hot. And finally, the local kids decided to put their camp up only a few meters away from us….
Well, that was our "idyllic" camping-adventure on the beach. But the beach itself was very beautiful. We never saw a place with so many shells before. Unfortunately, or luckily, we could not take any souvenirs due to the lack of space…
A special experience was the little detour through the most south-eastern provinces of Thailand, which are completely off the touristy radar. It is a region that is dominated by conflicts, and fighting and bombings occur frequently. The majority of the people in this area are Malayans that are traditionally Muslims. They don't feel respected and treated equally by the government in Bangkok, and therefore there are some radical groups in this area that want to achieve independence from Thailand. The only signs of this on-going conflict that we saw were the many heavily armed police and army check-points. The people were very friendly, and we never felt unsafe. But it was difficult to find a place to stay for the night, since there are no tourists.
The last night in Thailand we stayed at the border town Betong, away from the sea. This place is a kind of "party-town" with clubs, red-light district, and lots of bars and restaurants. But everything is rather cute – the nightclubs for example open at 4 pm and close at 11 pm…
This was our last stop in Thailand. From here we crossed the border to Malaysia, looking fo new experiences and adventures…..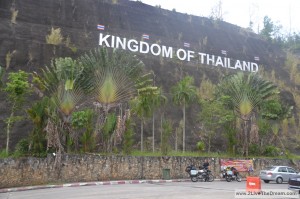 Travel information
Visa: We got 30 days entering the country by plane, and 15 days entering by land border – without visas. However, you can apply for a visa and stay longer. We organized a two-month visa in Vientiane/Laos, which was very easy.
Money: Thai Baht. 1 EUR is about 37 Baht – the Baht is very strong at the moment, and the exchange rates became worse for us the longer we stayed.  ATM machines are found on almost every corner (but you have to pay a little charge for using them).
Traffic: On the left side. The Thais normally drive rather slow, and not aggressive (exception: black pick-up trucks and mini busses). The main danger is that they also drive very care less and don't pay attention….
Motorcycles: Spare parts can be organized pretty easy, and specialized workshops exist, but they mostly have not the same expertise as European workshops. Motorcycles can also be rented almost everywhere.
Roads: They are usually in good condition. But if you look for it, you can find some tough off-road tracks.
Benzin: Available everywhere, the quality is usually good.