April 22, 2013 in Thailand, On the road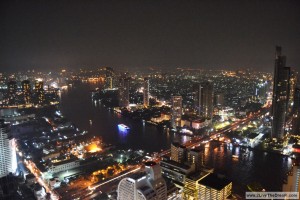 We experienced a major culture shock, when we arrived at the airport in Bangkok by the end of November last year. After several months in third-world-countries we had the feeling that somebody had transported us right into the future. We sat in the taxi on the way from the airport to our friend Joerg's house in the city, and couldn't believe what we saw. With open mouths we sat there gaping at the skyscrapers, the illuminations, and the well-regulated traffic. All cars had doors, and even air condition…. The next morning, when we visited the supermarket, we were completely lost – a whole aisle only for muesli, one for wine, chocolate, cheese, and so on. This selection was unbelievable!
Also the friendliness of the Thai people, their respectfulness and their courtesy we immediately liked. Even though a smile in Thailand is not always honest, it just felt very nice after the importunate and disrespectful behaviour of many people in India and Nepal.
Directly after our arrival in the city, we got the message that we could go to Burma with our motorcycles – what a great surprise. We had just flown over this country, because the permission to cross the country overland was denied. So we were really happy that we would now get the chance to explore the country with our motorcycles from the Thai side. However, this resulted in quite some stress, because we still had to organize a few things and we were expected at the border only a few days later. We have written about our experiences in Burma in a separate blog post
Somehow we weren't very lucky with our motorcycles during our time in Thailand and the neighbouring countries. We had several problems and Filippo's 1150 hat to return to Bangkok on a pick-up truck twice. One time, it was because of a broken Wilbers shock in Burma, and the other time the rear wheel bearing broke on the way back from Cambodia. Also Heike's 650 now caused problems for the first time: the steering head bearings had to be replaced, and the water pump stopped working. Well, that's the price you have to pay after so many kilometres…
Bangkok was a fascinating place for us with its temples, markets, entertainment districts, palaces, skyscrapers, shopping-malls, traffic jams, slums and villa areas. There is probably nothing you cannot get or experience in this city. Filippo got lost for hours on the market for electronic parts. The result was that both motorcycles got an almost completely new wiring, and nobody can remember what all the switches on the bikes are actually for….
Also because of the wonderful hospitality of our friend Joerg in Bangkok, who let us stay at his house for several weeks, we felt at home in this city and we returned there several times. Together with Joerg we travelled to Burma, we spend Christmas together in Bangkok, and we worked with him on the bikes in the courtyard of his house for hours. For the first time, since we had left Germany, we had a place where we felt a little like at home… *
The trip to the North of Thailand showed us a completely different face of the country. This area has a lot of mountains and forests, the temperatures are lower, and it is less populated than the rest of Thailand. We found some fantastic motorcycle roads there, such as the famous Mae-Hong-Son-Loop, with lots of curves. So many that you can actually get sick whilst riding on your own motorcycle…. Ask Heike!
We came through villages in Northern Thailand, where the people still lived in traditional huts, we went to some of the villages of the "Long-Neck" woman (which are actually refuges from Burma), and we enjoyed the nature and the relaxed atmosphere in cities such as Mae Sariang, Mae Hong Son, and Pai.
Chiang Mai, the centre of Northern Thailand, we liked also very much. Small bars and nice restaurants everywhere, prices are lower than in Bangkok, and the surroundings offer a lot of natural and cultural attractions. And for travellers like us there was a special event taking place in January: a Horizons Unlimited meeting. Of course, we had to go there. It was great to meet so many like-minded people and fellow travellers, and to share stories and experiences with them, sometimes until late at night. We met some travellers with whom we had already email-contact before, or that we had met on the road before, and others we saw later again in  Laos and Cambodia.
In total, we returned to Bangkok three times. But one day, we had to say goodbye, and we continued our journey further south. We will report about Southern Thailand in our next blog post.
*PS: Thank you, Joerg – and we miss you! 🙂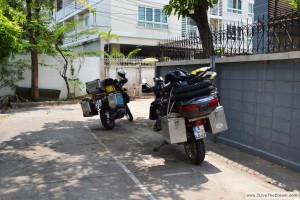 Travel information
Visa: We got 30 days entering the country by plane, and 15 days entering by land border – without visas. However, you can apply for a visa and stay longer. We organized a two-month visa in Vientiane/Laos, which was very easy.
Money: Thai Baht. 1 EUR is about 37 Baht – the Baht is very strong at the moment, and the exchange rates became worse for us the longer we stayed.  ATM machines are found on almost every corner (but you have to pay a little charge for using them).
Traffic: On the left side. The Thais normally drive rather slow, and not aggressive (exception: black pick-up trucks and mini busses). The main danger is that they also drive very care less and don't pay attention….
Motorcycles: Spare parts can be organized pretty easy, and specialized workshops exist, but they mostly have not the same expertise as European workshops. Motorcycles can also be rented almost everywhere.
Roads: They are usually in good condition. But if you look for it, you can find some tough off-road tracks.
Benzin: Available everywhere, the quality is usually good.