June 28, 2012 in Iran, On the road
We are in Iran now since 15 days, and we are already so full of new experiences and stories, it is hard to summarize everything.  Iran is definitely completely different from the picture the media draw of it in western countries. All people we have met so far were friendly, welcoming, and honestly interested in us. Also police and officials treated us very politely and with respect.
Of course, the control through the government is always present: many news sites in the internet as well as facebook and Co are not accessible. Satellite TV is illegal, it is not allowed to play music in most places, and the Islamic dress code has to be respected, especially by the woman. But it seems that many Iranians have arranged themselves and their lives accordingly, and the rules are often interpreted in a very relaxed way, so that most things are still possible, or the rules are simply ignored – more or less openly.
We crossed the border from Turkey into Iran at Bazargan. The border crossing itself was no problem at all. The officials knew what they were doing, helpers lead us for a small fee through the maze and to all the required offices, and in less than 90 minutes we had left Turkey and entered Iran.
However, we want to warn all those that are planning to travel the same route:  be very careful with the money changers. Make sure that you know the exchange rate before you come to the border, and make clear to the money changers that you know it. Definitely don't give in to the first offer you get. All the money changers at the border will buzz around you like flies, they will tell you it is the last chance to change money, that there is no way to change western money once you are in Iran, and that you will need money for the border crossing. All this is simply not true! The border crossing doesn't cost anything, and the helpers prefer Euro anyway (we payed in total 15 EUR for the two of us). There are many places in Iran where you can change money, and the best rates are available in big cities, where you find official changing offices as well as the black market, where you get most for your Dollars and Euros.
Once in Iran we went then to the city Khoy, from there to Tabriz and then to the coast of the Caspian Sea, which we followed until we were north of Teheran, and then we went through the mountains to Teheran. We stayed there for a few days, explored the mountains a little further, extended our visas and drove then on to Esfahan, were we are at the moment. From here we will continue tomorrow to Yazd, then to Shiraz and finally we will drive from there to the border with Pakistan.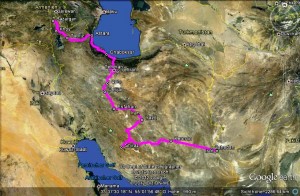 We have so many stories to tell, about the hospitality, about some things that were really surprising for us, but which are apparently perfectly normal in Iran, why we have become millionaires in the meantime, about the prices in Iran, and the completely mad traffic in this country … so watch this space, more to come soon.